Licence to Kilt- From Bond to Braveheart-a Film Fan's tour of Scotland
First it must be said, I never have won a raffle before. I diligently drop my name in the spinning basket at many events, never expecting to receive anything other than a small conciliatory prize once in awhile.
My family tree is Scottish, having roots that travel up the Mackay & Graham lines. I attend the Scottish-American Society of Central Florida Games in Orlando, Florida which are held every year in January. This is an incredible activity filled weekend with Highland Games, Bands, Dancing, Whisky tasting and many other events. It is there I willingly drop my raffle ticket into the big drum every year.
This year, late one Sunday night, Chuck McGrew, the executive from the Games, called and announced my name had been drawn from the barrel. He excitedly revealed that Leslie and I had won a one week's trip to Scotland, including hotels, rental car and airfare, all courtesy of Judy Lowstuter of Celtic Journeys, a sponsor of the games. We were elated and began our research of where the Awards package would take us and what we wanted to see.
Preparation is everything, and having been fortunate to travel for work and play, we began to assemble a game plan.
Tip #1: Ancestry.com: We enrolled in a membership with the online heritage service, Ancestry.com, having seen it featured on a television show called "Who Do You Think You Are?", it was a great tool in helping me prepare my family tree and identify cities and towns that my relatives may have lived in.
Tip #2 GPS & Maps: Leslie and I have never driven overseas, choosing trains, guides and walking for our means of getting around, so a rental car was a daunting proposition. I would be lying if I did not say it caused many sleepless nights before the trip. We purchased a flash drive with the UK Map database and uploaded this to my Garman GPS for about $40, which proved to be invaluable as our electronic guide for the trip. Also, Celtic Journeys provided many maps and suggestions, of which, with a highlighter, Leslie and I sketched out options for our routes.
Tip # 3- National Trust & Historic Scotland Passes: Judy's raffle package included both of these tourist passes which when bought ahead of your trip, saves you big dollars in entrance fees to almost every attraction we eventually visit. A great deal and thank you, Judy. 
Day 1, Arrive Glasgow- our Continental flight arrived in Glasgow at 9 am, with baggage claim and customs a well organized quick function. Judy at Celtic Journeys had booked us into the Holiday Inn Airport, assuming on arrival we would want to relax for a bit. Relaxation never seems to factor in on our vacations!
We were met at the hotel by the shuttle bus for our Arnold Rental car, whose facilities are off site in Paisley, a suburb of Glasgow and surprise, one of the towns my great great grandfather, John McKay lived- so prowling we needed to do. Leslie was first behind the wheel as she is the most patient and unflappable person I know- she expertly drove us back to the airport hotel when we met our first roundabout- you know, that scene from "European Vacation "with Chevy Chase cackling  "Big Ben, Parliament" as the Griswold's are locked in a death circle? Yes, we spun around and around that roundabout for what seemed for a hundred cycles before being able to get off and to our hotel entrance!
Tip#4-- Never Drive In downtown Glasgow
We left the rental car and paid around $15 for a taxi to the city from the airport (have your hotel call the taxi, the fare will be cheaper) and arrived at the University grounds for a walk and a visit to Ashton Lane, a trendy street of pubs and niche restaurants. We choose the Ubiquitous Chip, a renovated stable with multiple levels set among vines and rough hewn posts and stone. A welcome luncheon of haggis, "neeps and tatties" (turnips and potatoes) was stylistically prepared and delicious. An after lunch dram of Talliskers signaled our Scotland adventure has begun.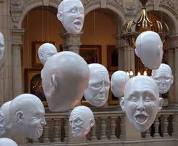 A light rain, which we will learn is "as good as it gets in Scottish summer", drizzled down on us as we walked from Ashton, through the University grounds over to the Kelvingrove Art Gallery and enjoyed this amazing museum. Recently restored and among the most visited in all of the UK, it is worth a visit. Suits of armor, African elephants, a broad range of masterpieces including a Dali and Whistler are arranged in an easy to navigate and anything but boring display.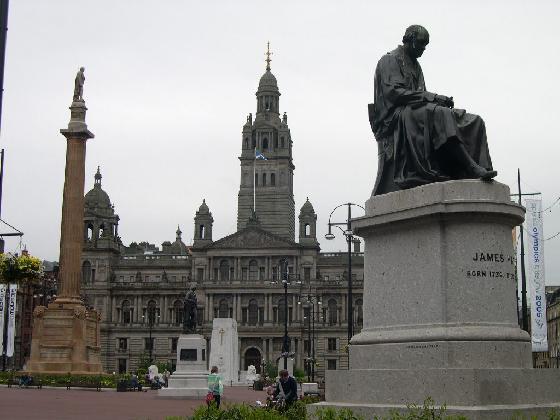 We pressed on a longer walk to George Square, which features the statue of Sir Walter Scott atop a column. Around the Square is an array of shops and restaurants, of which, Windows in the Carlton George Hotel, we recommend for a light dinner and panoramic view of the city.
Day 2, Off early to Inverness
We knew Day 2 would be an ambitious one, leaving Glasgow about 8 am and hopping on the A82 northward.  This was also our Anniversary day, so we were very excited about this being a special day.
The 82 takes you along the Loch Lomond and is considered one of the most scenic drives in Scotland. It is also very busy with tourists and very narrow as compared to the highways of the US. It took some practice to learn how much "room" to give the oncoming traffic and the imposing rock walls and trees on your left side!  A nice stop at Luss on the shores of Lomond afforded us a leg stretch and a photo opp, as well as a gift shop with a rest area.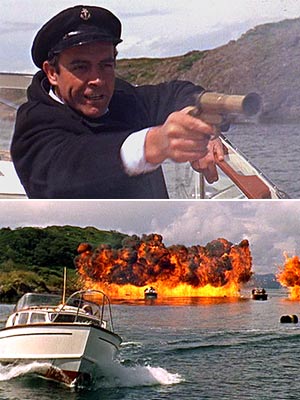 There is an interesting Bond location west of here, on the shores of the Sound of Jura in the town of Crinan, where the finale boat chase scenes of "From Russia With Love" were filmed. Due to our schedule, we mark that down as a trip for another time.  As we head northward, we quickly learn that today over 500 bicyclists will be on the road as part of the Highland "Fling", an organized marathon. Traffic gets incredibly complex until the cyclists take the rest at the Bridge of Orchy. Continuing northward, we marvel at the broad stretch of the Rannoch Moor, described as "the most desolate place in Scotland"!
We now arrive in one of my most anticipated locations on our drive today, The Study area of Glen Coe. This countryside with the stunning Three Sisters Mountains and verdant valleys appears in many films including Highlander and Braveheart, which were filmed at Buchaille Etive Mor and Etive Beag.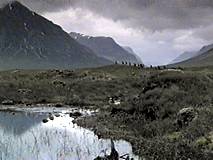 Ian Fleming chose this area to be deemed the "birthplace" of James Bond in his novels, with his lineage of Bond being born to a Scottish father and Swiss mother, later attending school in Edinburgh. Make sure you also make a visit to the Clachaig Inn for a pint and a walkabout. It is in this valley that Hagrids Hut was built and used for the Harry Potter films. It is no longer there but the scenery is stunning and if you bring these movies loaded on an IPod or Ipad, you can easily see where the sequences were filmed.  Also, a stop at the Visitors Center gives a good panoramic of the area. The Center film highlights the details that led to the Glencoe massacre of the McDonalds by guests offerered hospitality, as punishment for their failing to pledge allegiance to the Monarchs, William & Mary.
From Glen Coe, we continue on and up to Fort William, which is situated on Loch Linnhe, with a beautiful view of Scotland's highest mountain, Ben Nevis. This is a good stop to take a look at Neptune's Staircase, a series of locks, and the Caledonian Canal, a series of lochs,  which connects the North Sea with the Atlantic. It is here we abandon our proposed travel plans and detour west on the A830 to see another famous film and historical site. In Glenfinnan, plan on stopping at the Glenfinnan Monument, at the head of Loch Shiel. In 1745, Bonnie Prince Charlie raised his red and white banner at a rally in his soon-to-fail attempt to restore the throne to James VIII, his father.  "Highlander" fans will recognize Loch Shiel as the lake where McLeod learns he is immortal! The tall columnar monument of Glenfinnan  allows you to climb to the top, (very narrow and watch your head on the low ceilings!), and when at the top you have a vista of this valley. And, for film fans, looking across the field stands the famous Glenfinnan train viaduct, which is featured in "Harry Potter and The Chamber of Secrets" where the boys run from the oncoming train. It's a beautiful setting and worth the extra time to see. We return to the A82 and continue north again.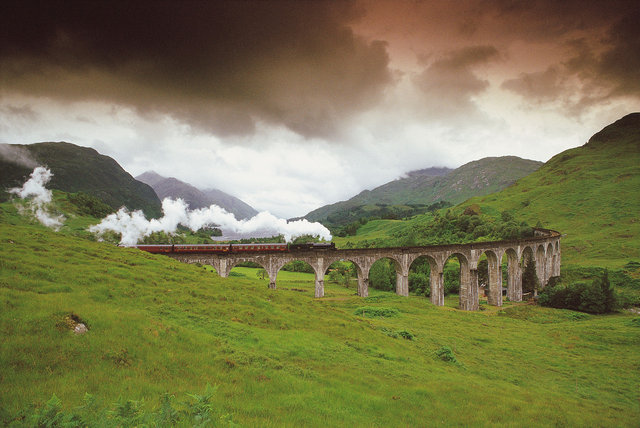 Scotland, is historically a country with eerie tributes and monuments to ancient violence, and none we found stranger than a quick stop at Invergarry to check in on the "Well of the Seven Heads". Without getting into confusing detail, this well is where seven brothers were decapitated for the murder of a 17th century chief.
We have a quick look and turn our heads back to the A82 and on to Drumnadrochit along the banks of Loch Ness. Before reaching this town, you pass a quick bend and the entrance to Urquhart Castle, a very well reconstructed castle if not a bit crowded most of the time.  A good view of Loch Ness can be had from the castle and guides will tell you, it is here that most of the sightings of the Loch Ness Monster are made.  We arrive in Drumnadrochit and tour the Loch Ness Monster Museum, which shows the people and equipment and photos of the quest to capture the creature over the centuries. There is much to do at this stop for kids and is as close to Disney World you may get in Scotland.
On a recommendation from Judy, we have a late light lunch in Dochgarroch at the Oakwood Restaurant with host and owner Gus. A roadside house more than a restaurant, the Oakwood is small and welcoming. Specializing in natural and organic meals, Gus and wife Gaby prepare a beef roast with scallops wrapped in bacon that was incredible.  Gus has a clear impression of the world and travelers, and Leslie and I do our best to put Orlando Floridians Americans in good stead. We feel we succeeded a bit; however, Texans and New Yorkers will have to fend for themselves.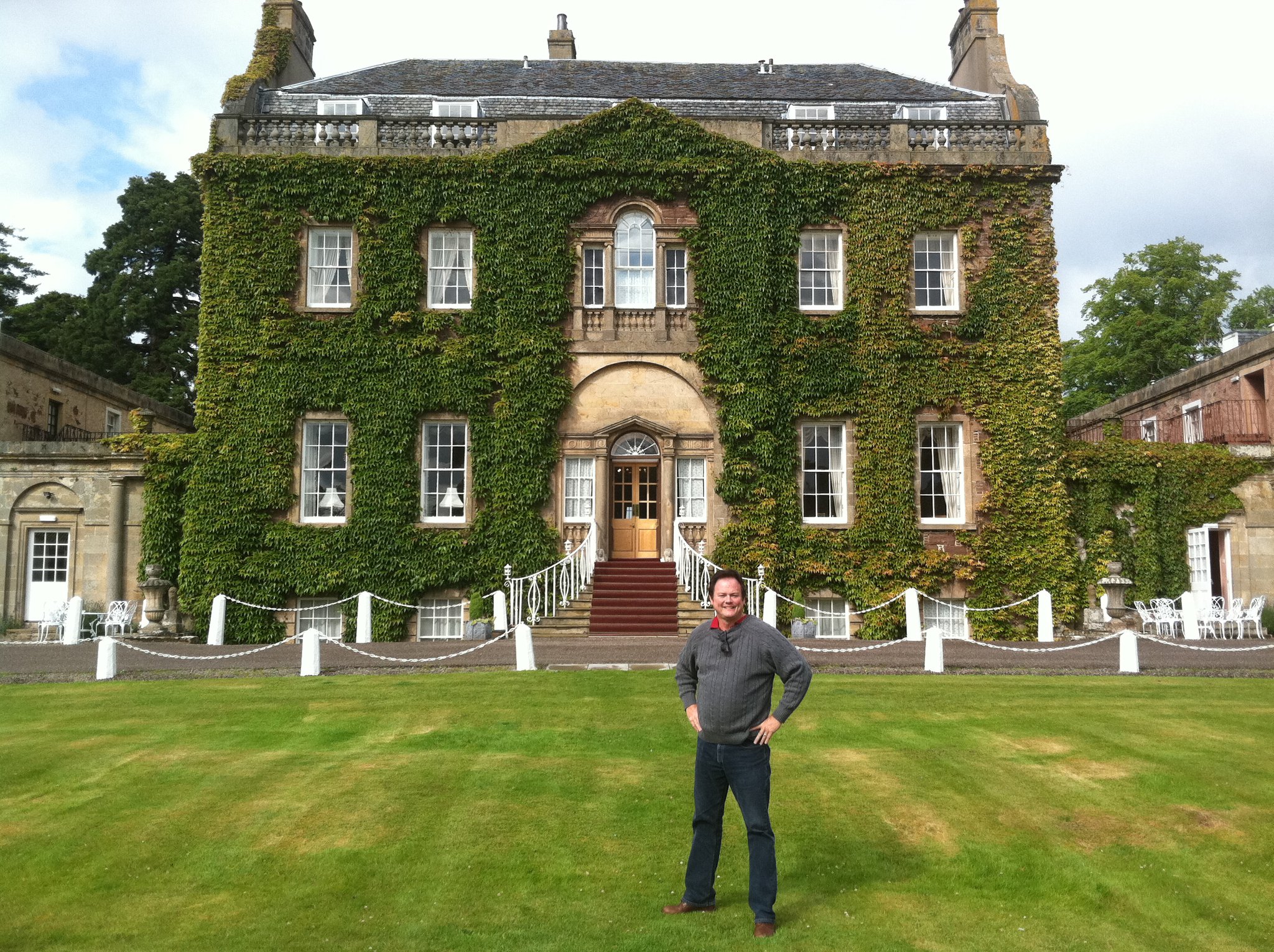 It's now fairly late in the day and we decide to head on to our accommodations outside of Inverness, near Culloden.  Imagine our wonder as we enter the grounds of the Culloden House, our home for the next two days. Listed among the Top 500 Hotels in the world, this Georgian mansion housed Bonnie Prince Charlie the night before the Battle of Culloden. A restored beauty with an excellent accommodating staff, the Culloden House proved to be one of our best experiences in travel.  We take the time to walk the grounds and join bartender Noel in the warm library for a sampling of Highlands's best scotches.
For our anniversary dinner, we are piped from the bar by a kilt clad Highlander into the formal dining room for a wonderful meal of Scottish dishes. A cold bottle of Tattingers to celebrate our evening of course, and Leslie soon had the staff in good humor. Her comment of "The Chef needs a cook book" was met with stunned confusion until she quickly explains she meant the chef is SO good he needs to WRITE a cook book. Thankfully, we were saved from being expelled from this incredible location.
Day 3, The Skye's the Limit
We are early risers again, braving the morning traffic in Inverness, a bit of a confusing snarl to leave the city and head southward again, where we exit on the A887 for a beautiful quiet country road's drive through the Glen Moriston. We connect with the A87 and along Loch Cluannie and into the Glen Shiel. Approaching Kyle of Lochlash, we stop at a movie and historical wonder.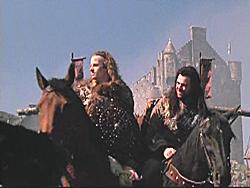 The Eilean Donan Castle was built in 1214 and was lovingly restored in the 30's by Colonel MacRae, of Clan Mac Rae. Film fans will recognize it as the castle of MacLeod in the "Highlander" series of films and more recently, from the James Bond film, "The World is Not Enough" where it represented MI6's northern location. I don my kilt for the necessary photo opps and Leslie enjoys the self walking tour and enjoyment of the small but well appointed interiors here.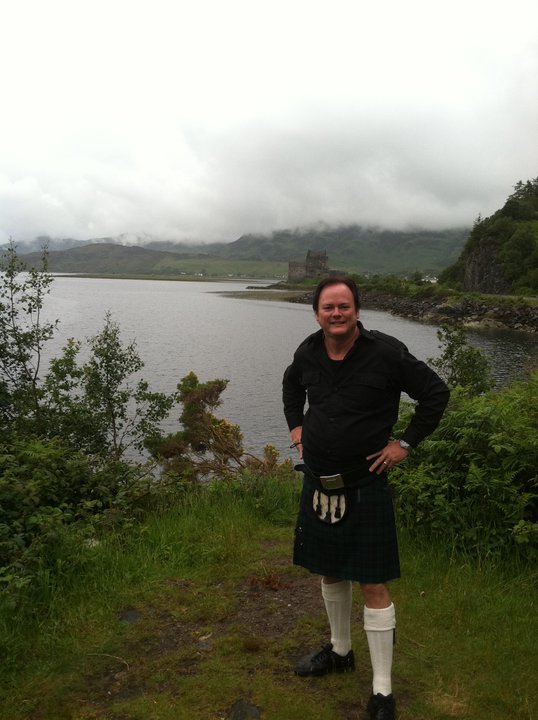 We drive on over the Skye Bridge into Kyleakin, where we have a Scottish breakfast at Harry's, a local gathering spot of boaters and fishermen. Also, a romantic view of the ruins of the Castle of Moil, where a Norwegian princess once lived captures our attention.
We meander our way back to Inverness and visit the Culloden Battlefield and Visitor's Center. A very comprehensive and new Center, this battle is presented from both perspectives along with a 360 degree film and audio experience which puts you in the center of the action.
We return to the Culloden House, tired but thrilled about our day in Skye and relax again in the Library, where I curl up with the newly released James Bond novel, "Carte Blanche" by Jeffery Deaver- which I was able to purchase in Glasgow ahead of its U.S. release, a nice treat.
Day 4, Be Distill My Heart
Today, we sadly check out of the Culloden House and say goodbye to our staff.  Taking the A9 south, we elect to forgo the long coastal drive on the A96 to Keith through The Whiskey Trail on the river Spey. Our logic being that after a few distilleries, they will all look and smell the same. You may choose differently, however, we chose to continue south on the A9 to Aviemore, a popular hiking and climbing resort area with a great view of the mountains. We select a small café to have a quick breakfast on the main street of shops, outfitters and pubs.  From Aviemore, we continue on the A9 to our first distillery. The Dalwhinnie is a small but well maintained distillery and high up in the Cairngorm Mountains. Their pride is their underground snow fed supply of water that makes the whisky unique. I choose to purchase a bottle of the Double Mature, which is not commonly found in the States.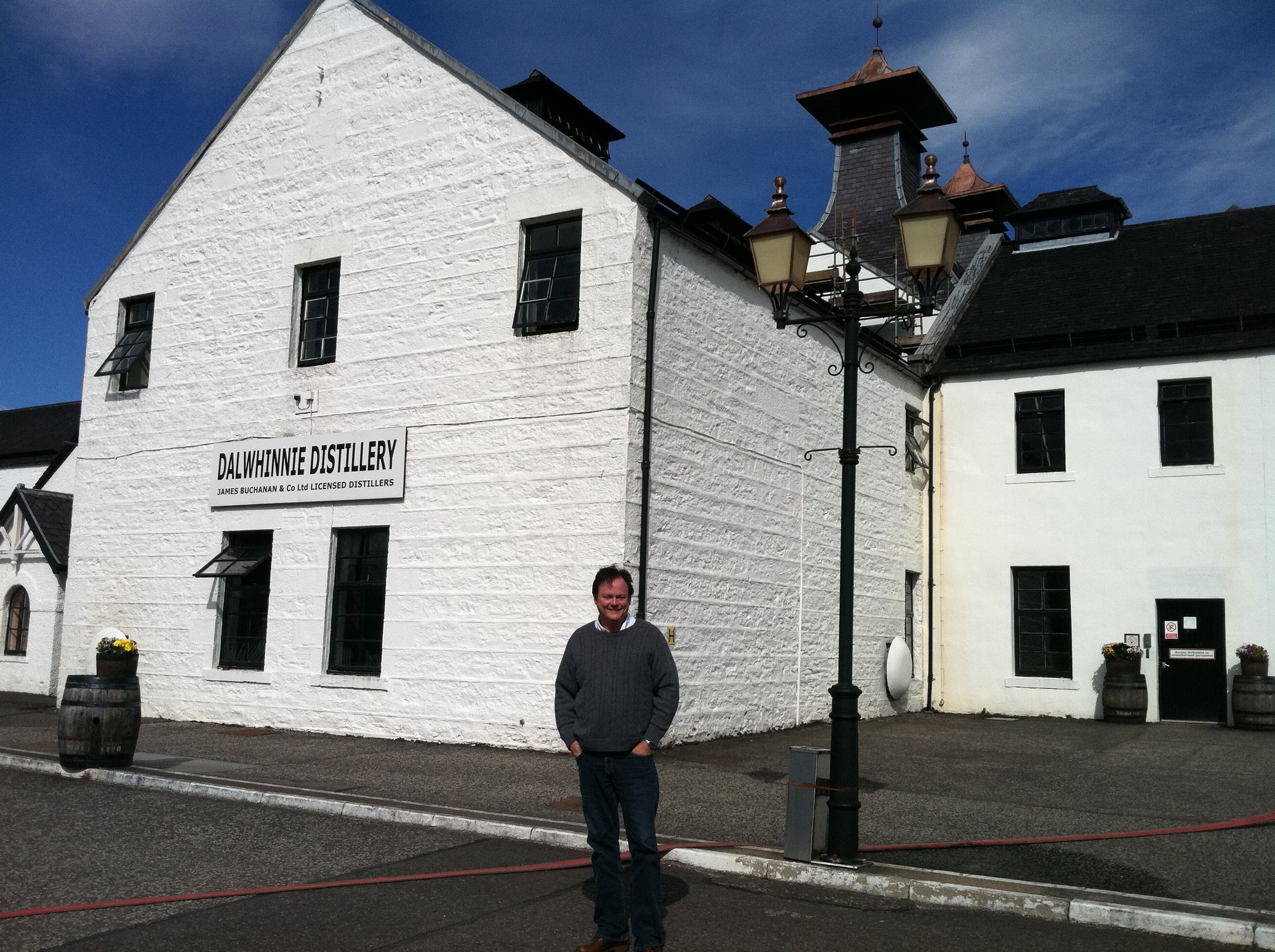 Next up is Blair Athol and Blair Castle, which, at first glance, with its white painted walls, doesn't seem quite castle-like but boasts marvelous grounds, a large Great Hall with your chance to wear medieval garb for photos and well appointed rooms. Built in the 1260's by the Dukes of Athol, it is a sprawling classic. Across the street from the Castle is a great atmospheric pub, the Bothy Pub. Be sure to drop in and order Braveheart Ale and a dram of Edradour, which is distilled nearby. This is a very small distillery so the tour is an easy short stop.  Also, you will find after several tastings, the word Athol takes on a very interesting pronunciation.
Heading west for a short drive on B8019, one comes upon Loch Rannoch, which has a reputation of as one of the most beautiful lakes in the Highland, and an inspiration for Robert Louis Stevenson's "Kidnapped". We return to the A9 and enter Pitlochry, site of the famous salmon ladder which assists salmon to swim upstream. We enjoyed ourselves at Mackays (no relation), a main street pub, which by coincidence has a James Bond room.  Bartender Brian suggests the local Edradour scotch as well; but suggests the far rarer "The Cask", and it is fantastic. Many photos later, we leave Mackays and cut westward on the A827 to Aberfeldy, our stop for the evening.
Aberfeldy, a two night stop selected by Celtic Journey for us, is located on the river Tay and is known for its poem by Robert Burns, who mentions Aberfeldy in his poem, The Birks of Aberfeldy. Modern day, it also known as the residence of Harry Potter author, J.K. Rowling. Arriving late in the day, we found that not much happens in Aberfeldy after 5, not even a Mudblood or Slytherin could be found. So, it was an early evening at our hotel, ready for battle for tomorrow.
Day 5, In the 246 Steps of Braveheart
A9 takes us southward through Perth, which in ancient times, was the capital of Scotland. Here, the impressive Scone Palace and Balhousie Castle can be toured; however, our itinerary is very full today, so we jot that down for a future trip. We arrive in Stirling and drive up the large rocky hill to Stirling Castle. Stirling Castle was the seat for two Kings, James IV and V and it is here that Mary Queen of Scots as an infant lived. Stirling is currently going under a radical facelift to bring James's corridors and palace wall sculptures back to life. James saw Stirling as his announcement to the world that Scotland was a power to be dealt with and his reign, one of worthiness.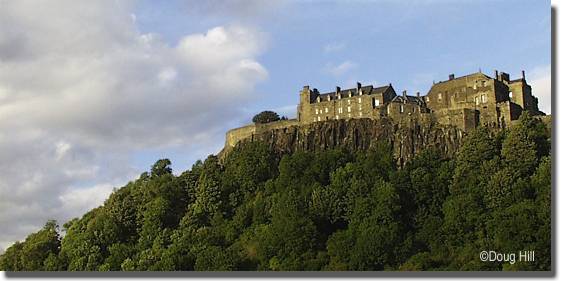 It is a fascinating tour with a glimpse to what grandeur the castle must have appeared from high up on that hill. From Stirling Castle, we head over to the William Wallace Monument, a large towering structure set also high up over the Stirling valley. We learn as we ascend, that we will be climbing a total of 246 steps to the top, which along the way, several floors house exhibits, recreation of the Wallace trial and the Wallace Sword.  Leslie and I are breathless as we arrive at the summit of the tower but take in the view of Stirling below. Film fans may remember Stirling from the film, "Braveheart" as the 1297 battle that Wallace gives his stirring "Freedom" speech and leads the Scots to victory. However, that scene was filmed in Ireland and bears no resemblance to Stirling or to the facts of the battle itself. In reality, the Bridge of Stirling is not featured in the film and the fact that the British troops had to cross this bridge to approach the Scots in battle, essentially slowing them down, is strategically lost in the film.
From this victorious location, we drive to Bannockburn and its battlefield, which also has a well detailed visitor center. Bannockburn was the site of the 1314 Battle of Bannockburn where Robert the Bruce defeated Edward II and gains Scottish independence. From the field, you can see the large statue of the Bruce and out to the Wallace Monument and in the far distance, the Stirling Castle.  Gaining a thirst from all those steps and battles, we pop into the Borestone Pub up the corner from the battlefield.
Tip# 5- The UK owns 1/3 of Orlando, Florida. Scots are the friendliest folk we have ever encountered, as being short some pence for our Ales, a kindly gent leaning at the bar made up the shortfall with some coins from his stack.  We learnt that his son "a miserable young man", has condo investments in Kissimmee and if we would be so kind, perhaps pop in and see how they look...another patron joins us and she too, has timeshares near Disney and is bringing the whole family and can we get her discounts, etc., we exchange emails and an hour of discussing the weather in Orlando, "bloody hot there in August", we say our goodbyes and head on to the next castle.
This castle, we approach not by walking but to the sound of horses, coconuts clapping together to sound like horse, to be precise. Yes, this is Doune Castle; the castle featured in "Monty Python and the Holy Grail", a small and interesting site. The castle, about 8 miles north of Stirling, was built in the 14th century and is very well preserved. In 1745, Bonnie Prince Charlie occupied the castle during the Jacobite uprising.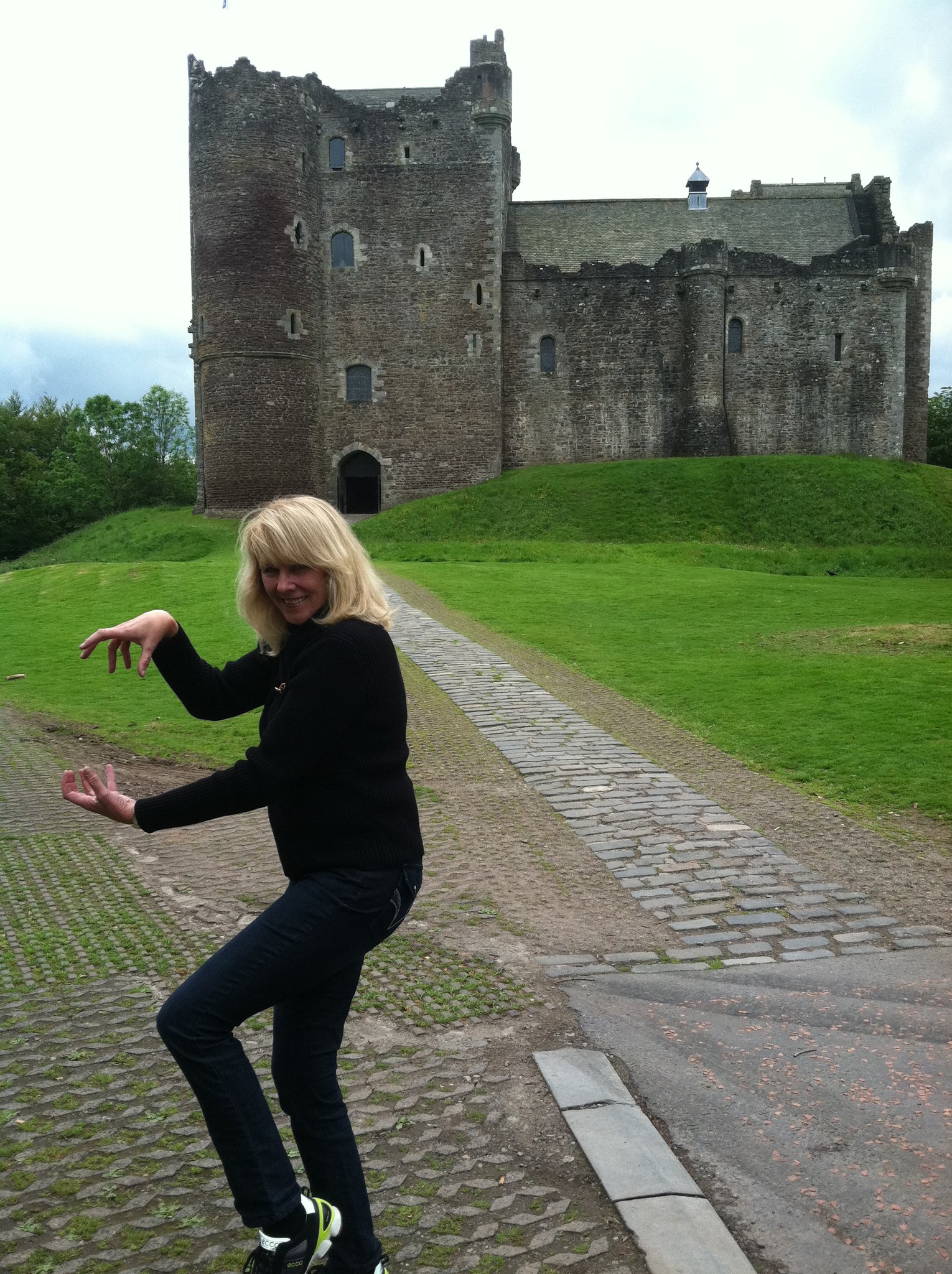 The castle exteriors and interior are used extensively in the Python film as at a late moment, the National Trust of Scotland withdrew permits for the filmmakers to use other castles for the film. Ultimately, it is Doune that stands in for most castle sequences, with the exception of the Castle Stalker, in Argyle, which is shown as Castle Arggghhh.
Leslie placates me by reenacting several Python scenes for our video camera, galloping around the castle front to the confusion of several groundskeepers. A reward is in store for her, as leaving Doune, we return to the A9 North and on the A823 to Crieff and the Famous Grouse Experience. The Famous Grouse is reputed to be the top selling Scotch blended whisky in the UK and has built a tourist attraction in the Glenturret Distillery, one of the oldest distilleries in Scotland. If you have toured the Speyside distilleries already, this may be too touristy for your tastes but if your trip is limited to the Edinburgh area, it's an enjoyable stop. Leslie and I skipped the tours and went straight to the Famous Grouse tavern, where bartender Norman, prepared a flight of unique and aged Grouse malts for us to sample. A required stop at the gift shop for some trinkets for my golfing friends back home.  Regretfully, our time is quickly limited and we are forced to miss another grand castle, The Drummond Castle, west of Crieff. The Drummond Castle Gardens, built in the 17th century by John Drummond are featured in the Liam Neeson film, "Rob Roy" and are considered among the most beautiful gardens in the UK. With it quickly becoming dusk and a light rain, we pass on Drummond and we return to Aberfeldy for the evening. We prowled around town a bit looking for the JK Rowling estate and believe we had found it. Perhaps it was a Patronus spell but frankly, we could not remember where it was the next day.
Day 6- Bonding off to Edinburgh
We're off early again and a bit of a retrace down the A9 and through Perth. We stop outside Kinross on Loch Leven and look out at the desolate Loch Leven Castle, which imprisoned Mary Queen of Scots in 1567 and she signed her abdication of the throne while behind its walls. Arriving the Firth of Forth, the  large bay on which Edinburgh rests, we cross the Forth Bridge and head west to Linlithgow,  and to Linlithgow Palace, site of the birthplace of Mary Queen of Scots, and a wonderful short tour.
Our mission though, this morning, is our arrival at Bo'Ness and our tour of the Motor Museum, located in a warehouse district. We arrive before opening hours, so trusting our GPS for a quick breakfast; we find that Bo'Ness does not have a large variety of breakfast spots. Our handy GPS leads us to a McDonalds on Mac Drive located in the heart of a former BP petroleum plant amid old docks and industrial buildings. We take a pass and decide to buy some meat pies at a local market and head back to the Museum.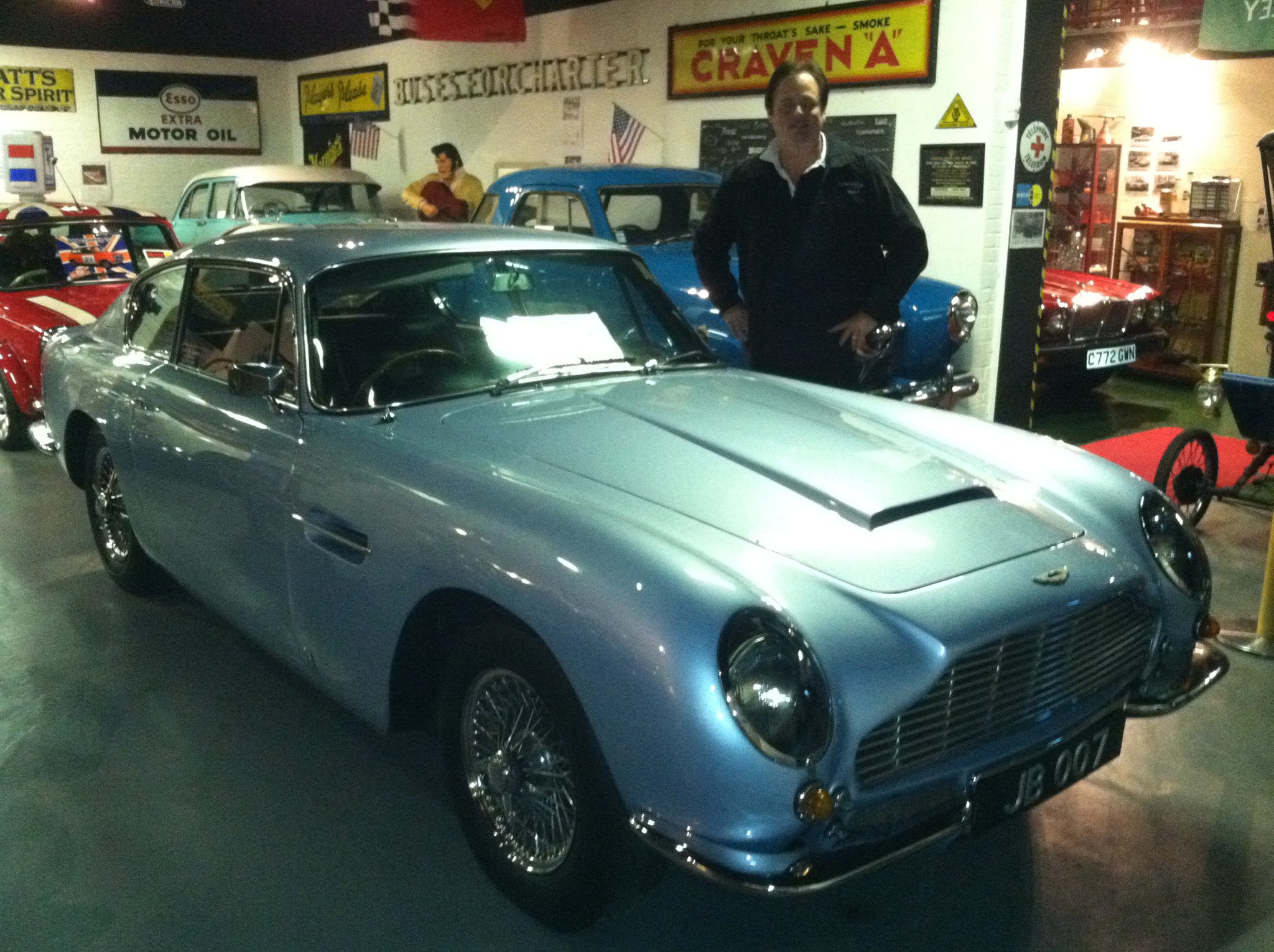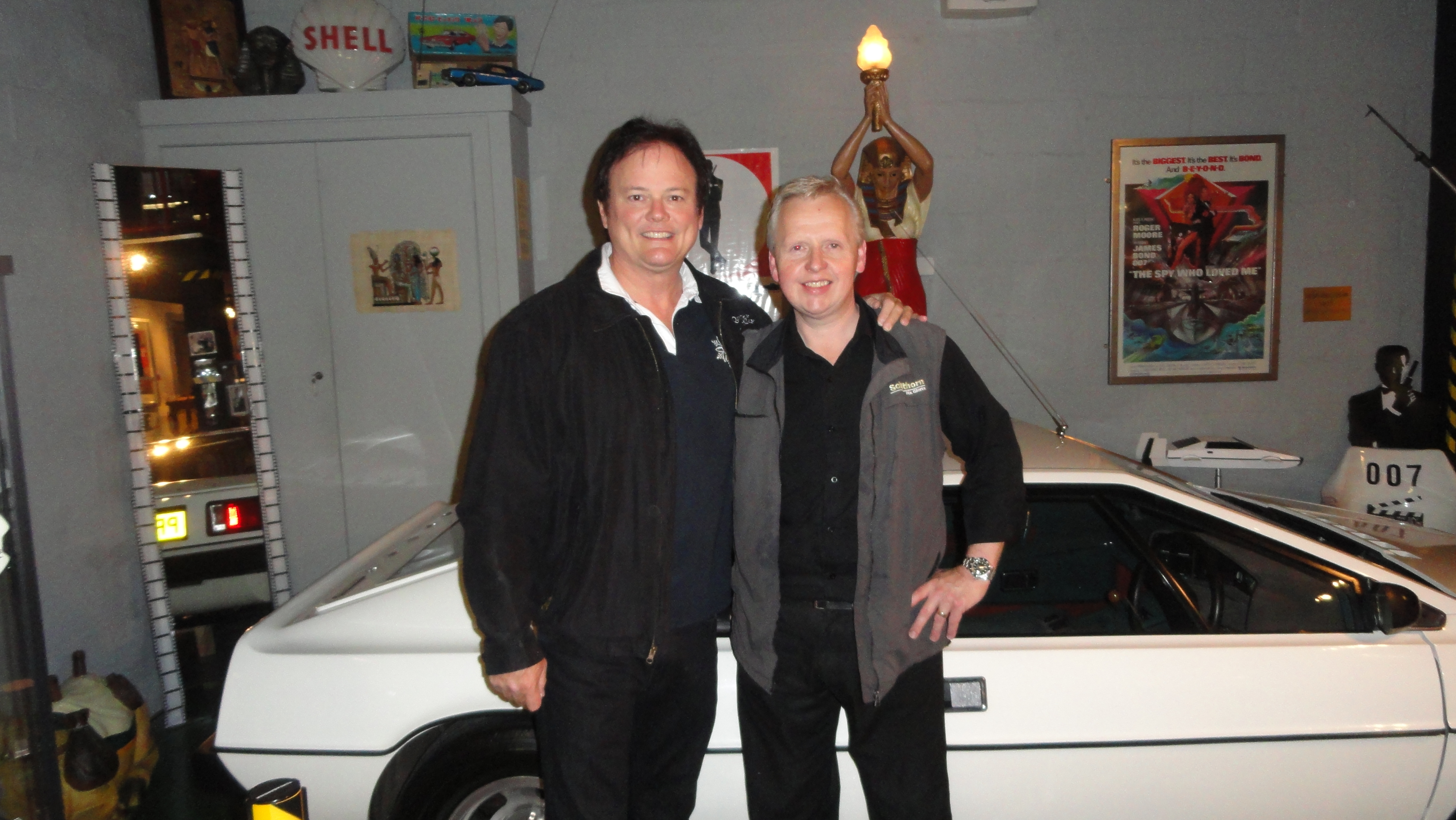 The Motor Museum, founded and operated by Colin Anderson, is an amazing collection of all kinds of vehicles but primarily, one the best homage's to James Bond and Bond collectables.  Opened in 1994, Colin toured us past the Lotus Espirit, seen in "The Spy Who Loved Me" and a promotional DB6 Aston Martin, used for the promotion of the 40th anniversary of "Goldfinger".  The Flying Car from "Harry Potter" is here as well as a Dr. Who Tardis. Surrounding all these vehicles is a floor to ceiling mosaic of film props, costumes, posters and goodies. Leslie remarked she would never comment on the size of my home Bond collection ever again. The Museum also boasts a 007 Bar, built to resemble the submarine pens from the Liparus and a children's playroom. If you like films and cars, this museum is for you.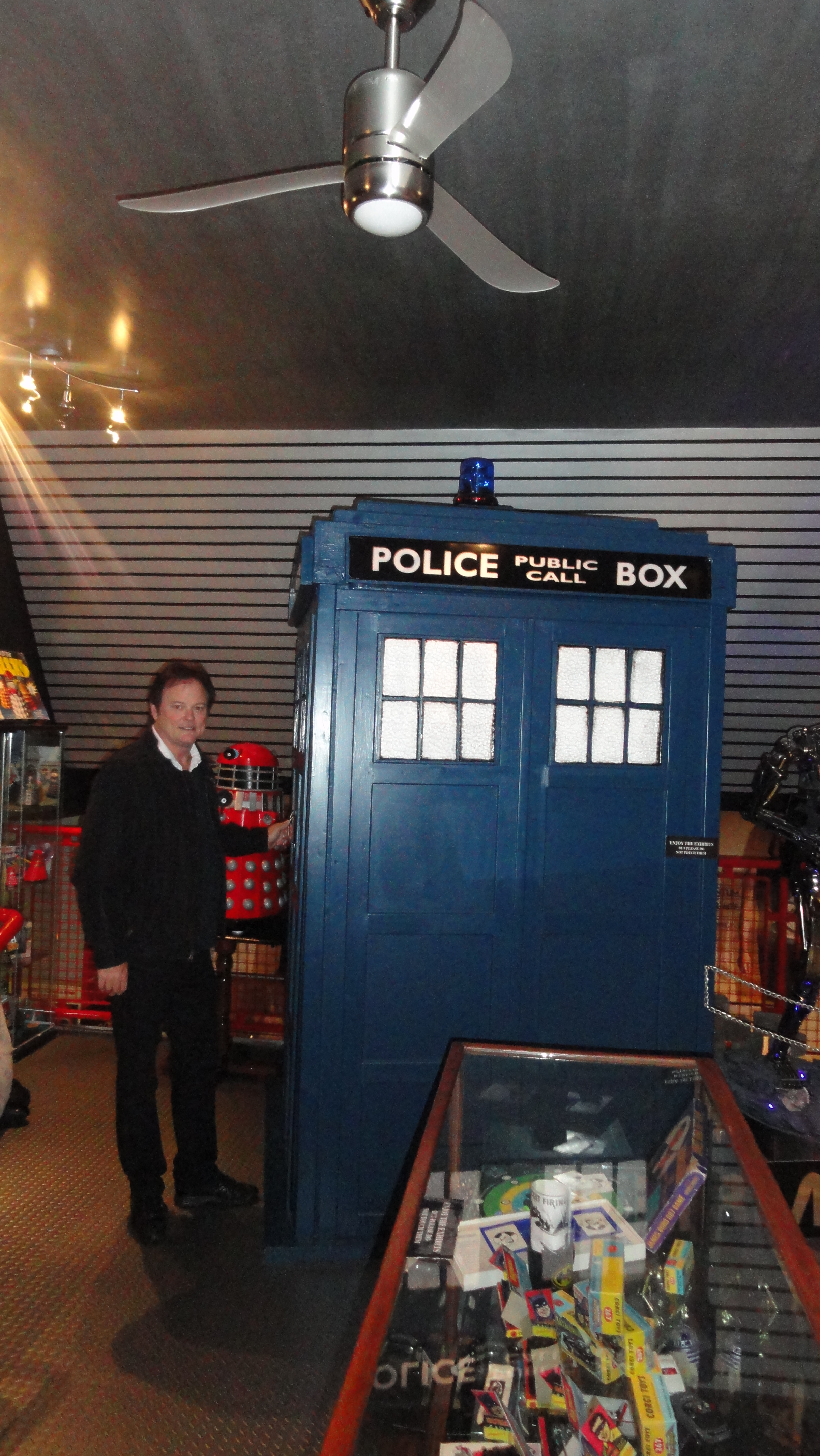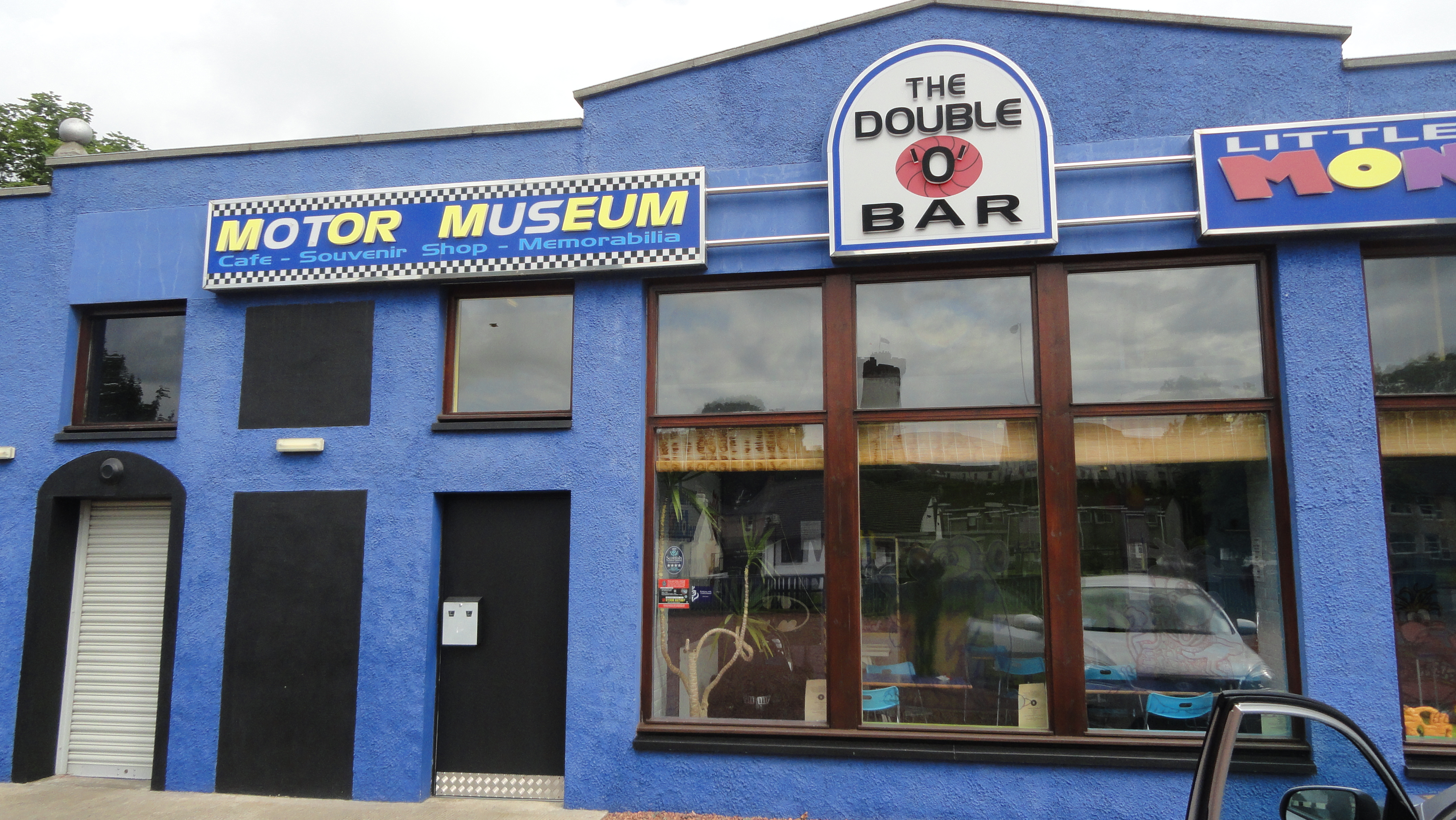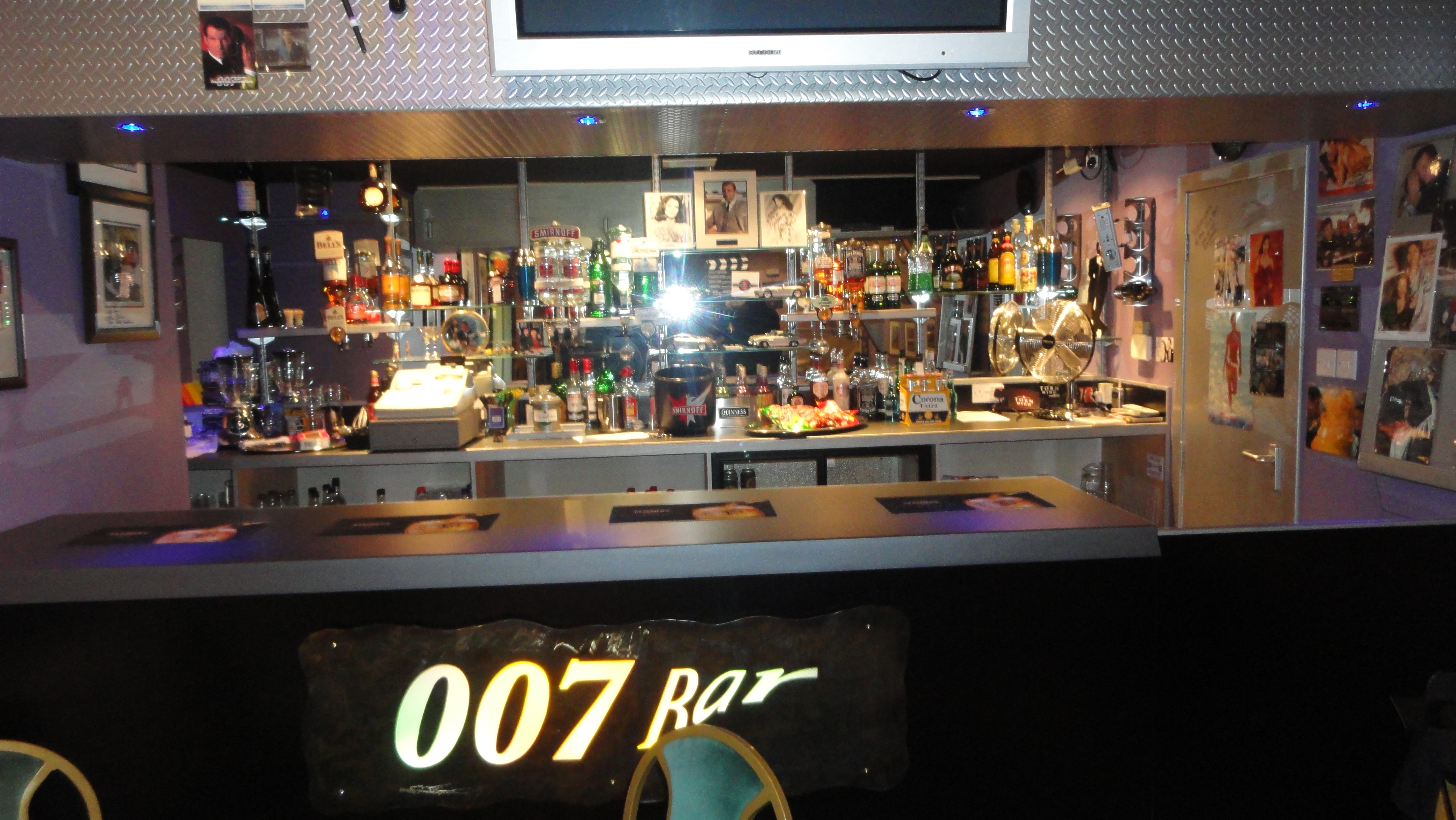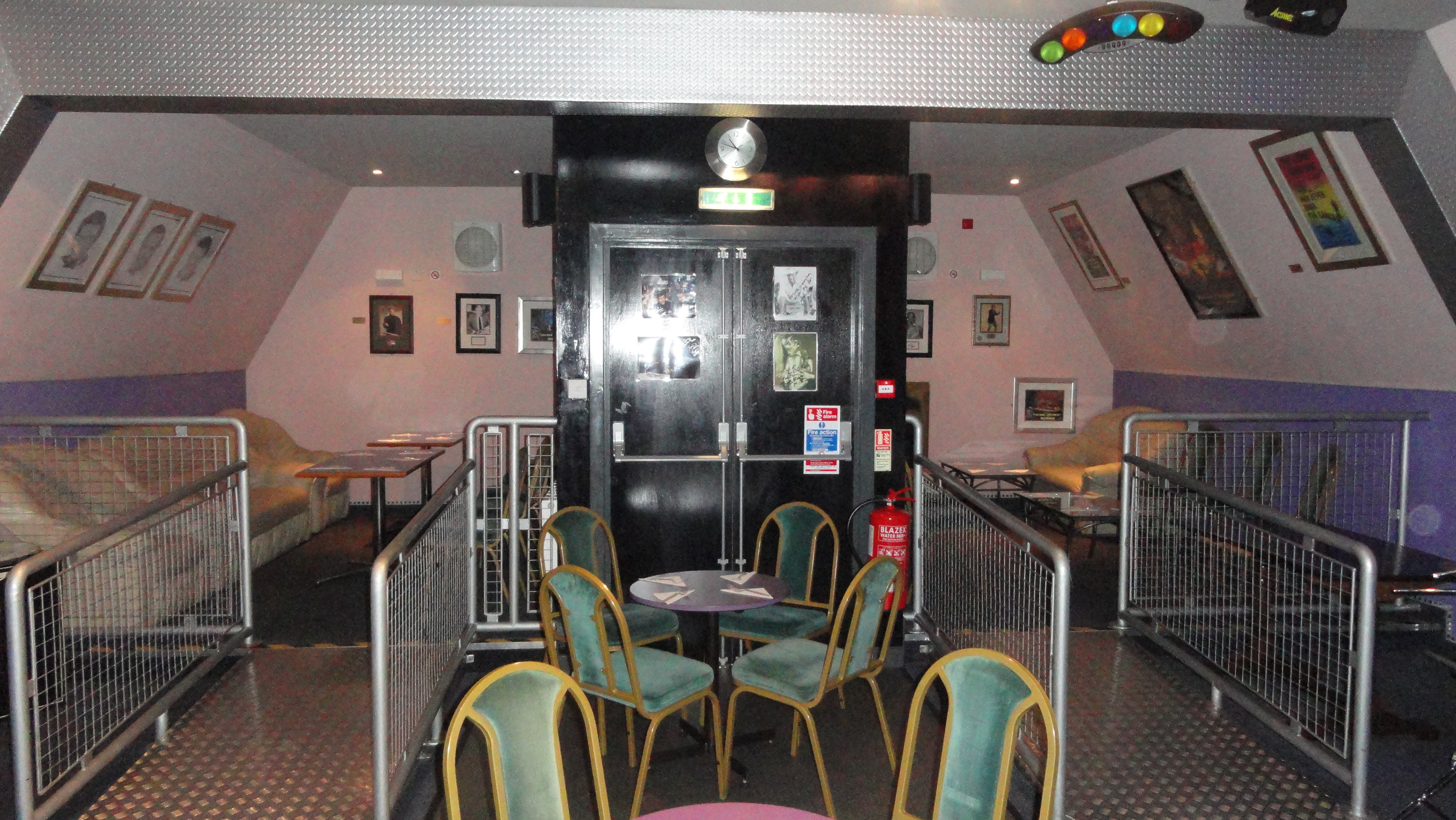 From Bond, we go on to a different film genre and head south on the A720 to the town of Roslin and its mysterious and enigmatic church, The Rosslyn Chapel. Featured in the novel and film, "The DaVinci Code", you may remember Tom Hanks and Audrey Tautou finding the final clues to Mary Magdalene in the crypts here at Rosslyn. Although the book and film are only gently hinted at, Rosslyn is undergoing a huge tourist expansion with a new visitor center to handle the large crowds that come here. Even despite "The DaVinci Code", the story of Rosslyn itself and witnessing the grotesque and bizarre chapel sculptures are a must see. Built in 1446, the founder, a mysterious Sir William St. Clair, adorns the interior with devils, knights, animals of all shapes, even homage to corn, which should not have been known of its existence during this time!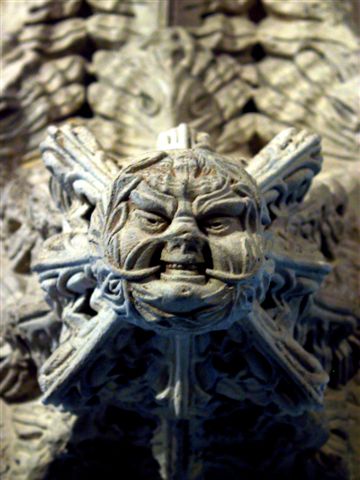 We head now from Roslin to the Edinburgh Airport to return our rental car, remembering Tip # 3 and alter that to Never Drive In Edinburgh, and there is really no need for a car here.  Our drive into the city passes us by the old Donaldson School of Deaf, which you may recognize as the girls school in "The Prime of Miss Jean Brodie". Certainly, we find there is no need for a car with the wonderful accommodations, Judy from Celtic Journeys has arranged for us. The Knights Residence is one of Edinburgh's top addresses, as our cabbie informs us and upon our arrival, he is correct. Greeted by Innkeeper Colin, the Knights is more apartment than hotel, with full kitchens, butler on duty and a location conveniently a few paces from the Grassmarket.   Grassmarket, where in days of old was the town square used for hangings and executions, is now a charming center of pubs and shops. We stop at the White Horse Inn for a refreshing plate of fish & chips and ale and we head off to walk the Royal Mile, which still today is the medieval road that starts at the Edinburgh Castle and ends at the Palace of HolyroodHouse. It's actually 4 streets that are connected, Castlehill,, Lawnmarket, High Street and Canongate, which is good to know when getting directions and trying to find specific attractions and restaurants.  This late afternoon, with a steady drizzle, we choose to meander the Mile shops and stores, enjoying the Scottish feel of this city.
Day 7-A Knight on the Town in Edinburgh
A simple breakfast at Jacques in the Grassmarket and a short walk down Candlemaker Row, we arrive at the Greyfriars Kirk and Cemetery.  It was founded in 1561 and is the resting place of many Scot notables and is an interesting quiet walk. Film fans may remember the Disney film, "Greyfriars Bobby", the story of the loyal dog who laid by his master's grave.  You will see the master, Auld Jocks headstone as well as Bobby's within the cemetery. Outside the cemetery is a statue to Bobby which is a good photo too.
For real trivia fans, we learn from Billy, the caretaker of the Kirk, who graciously spent almost an hour with us there; touring us through the Kirk and the hall of Covenants, that there is an even newer film connection. Around the block is the Elephant Café, where reputedly JK Rowling wrote many of her Harry Potter books.  Billy showed us headstones which are said Rowling got her inspiration for her characters names, including Tom Riddle, McGonigle and Hermione Grainger!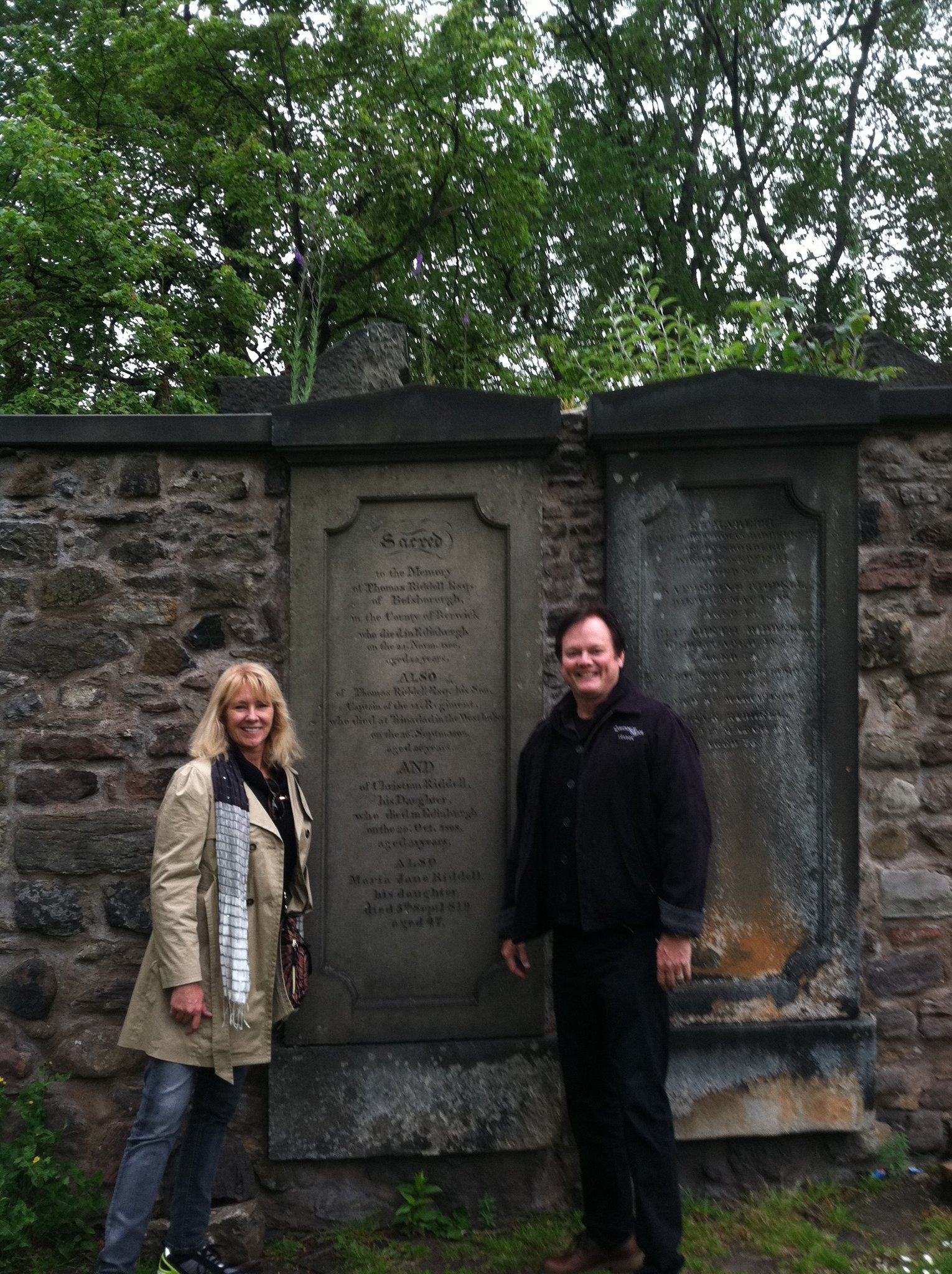 We catch a cab outside the Kirk and head west to the address of 176 Fountainbridge, where in June 2010; the city erected a plaque to honor Sean Connery, born on this spot in 1930. A wee bit North of Edinburgh, near the Botanical Gardens is Fettes College.  It is said that Connery delivered milk there and Fleming adopted the College as that of James Bond. Also, the description of Hogwarts in Harry Potter is said to be describing Fettes.
Our friends, Duncan and Maureen from Newcastle drive up and join us for the day, making this a very special closing day to our Scottish journey.
With them, we continue on our Edinburgh literary & film bent, with a drop in at Brodie's Close, named for Deacon Brodie, who was the inspiration for Robert Louis Stevenson's "The Strange Case of Dr. Jekyll and Mr. Hyde", and nearby, we drop into the Deacon Brodie's Tavern for a Tennants and some crisps.
Heading up to the Castle, we sign up for The Scotch Whisky Heritage Center, another Scottish attempt at a Disney attraction, in this museum, you ride in Whisky barrels through the inside of a distillery, learning the fine art of whisky making. The memorable treat is a quick tasting in the Collection room, where thousands of bottles are on display from almost every distillery and label you can imagine. Of course, your tour ends in the store and here, you can purchase whatever brand you desire.
We also note that next to the Center is the Witchery, a hot new hotel and restaurant experience frequented by celebrities, where guests and diners are whisked back to the romantic medieval era with themed hotel rooms and dining halls- we make a note to check this out on our return visit.
No trip to Scotland is complete without a visit to the Edinburgh Castle, noting that in our short stay there is still so much to see- The Palace of HolyroodHouse, John Knox House, countless wonderful museums and art galleries. We choose to tour the castle, which according to legend was built on this spot, an extinct volcano, in the 11th century. Allow plenty of time; hours even, as you walk through Queen Mary's Bedroom, the armory, the prisons and batteries of cannon, with a culmination at the Crown Chamber, which houses the Crown Jewels "The Honours".
We walk the Mile until dusk, and sit for a nice quiet light fare Italian dinner as the Haggis and Pie meter of my belt was beginning to ping in the red zone. It's a very romantic night, walking down this historic lane, with its amazing architecture, sounds and smells. A walk down a very long stairway near the castle and back to the Grassmarket for a wild and wooly evening, starting at the Bow Bar, with its antique beer pulls and local crowd, our bartender takes us through several iterations.  A short and steady walk from the Bow and over to the Fiddlers Pub where we hear a rollicking Scottish band. As is our tradition, we seemed to have walked in on a bachelor party and are quickly adopted as those "Florida folks", which as mentioned; a good number of the gents had property in Kissimmee or visit Orlando yearly. We apprise them of all the attraction renovations, the new restaurants on Sand Lake Road and what is the current price for Universal & Disney tickets, and then join in the great fun and song.  We learn that a roomful of tipsy Scots CAN sing Motown and we are impressed.  Sadly, though, we say goodnight, perhaps a wee bit too late in the evening, as tomorrow we have a 6 am taxi to Edinburgh Airport for our flight to Ireland…
…………………………….ah, laddie that is yet another tale.
This was a wonderful week of adventure, sights and tastes of Scotland, a country no larger than Florida in perspective, exciting to journey through with each turn a different terrain and different feel. We encourage you to enjoy Scotland and go soon!
With Thanks to Celtic Journeys, Scottish-American Society of Central Florida.
Source Material- Frommers "Scotland "  & Doug Hill of www.scotlandthemovie.com